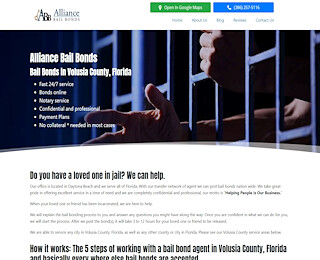 When you need help from a Florida bondsman" href="https://volusiabailbondsman.com/">Florida bondsman, Alliance Bail Bonds is always open. Call our office day or night to speak with a knowledgeable bondsman who can help you take the right steps in the right order to get your loved one out of jail. We know that bail can be complicated and difficult to understand; rest easy knowing we won't complicate the process any more than it already is. If it's your first time hiring a bondsman, we'll explain how things work, walk you through the steps, and use easy-to-understand language throughout.
How Do I Post Bail?
You'll find 5 easy steps on our website- simply follow the instructions for success.
Step One: If you get a call from a loved one in a detention facility, contact us immediately at (386) 257-5116. Provide first and last name, DOB, booking number, charges, and the facility's name where your family member or friend is being detained.
Step Two: Drive to our office located at 3668 W. International Speedway Blvd in Daytona Beach, FL; you'll need to fill out paperwork to complete the bond. Your Florida bondsman can post bonds throughout the US. Find us on Google Maps without leaving our website.
Step Three: After completing the paperwork, we'll post bond at the detention center you've named, eliminating the need for you to show papers when picking up your friend or family member. Be sure to call our bail bondsman for cheap bail.
Step Four: Bring your loved one back to our Florida bail bonds company to finish the necessary paperwork and you'll be on your way within a few minutes.
Step Five: When posting bail bonds in Florida, you'll be required to attend all of the same court dates as your friend or family member. We're here to help if you have any questions along the way. Our helpline is open 24-hours a day to assist you.
Still Confused?
Watch a short video on our website explaining how bail bonding works and reach out to us if anything sounds confusing to you. Our goal is to demystify the bail process when you need to work with a Florida bondsman. If you're feeling overwhelmed by the steps required to post bail, you're not alone. We work with clients every day who feel exactly the same as you, which is why watching our short video animation can help.
You'll also find a wealth of information and free resources on our site, including informative blog articles and compelling content that will give you the confidence you need to post bail correctly. Read some of the reviews left by our satisfied clients and call us first for a positive experience with a Florida bondsman.
Easy Bail Bonds in Florida
Our helpline is always open so you never have to wait to speak with a bondsman about your friend or family member's situation. We'll provide you with sound advice and assistance throughout the bail process, from start to finish.
Alliance Bail Bonds
3862575116
3668 W International Speedway Blvd
Daytona Beach
FL
32124
View Larger Map
We welcome your comments!
---
Our Team
Justin Buccolo
Owner & Primary Agent
Nikki Buccolo
Owner / Agent
Clarissa Nicholson
Agent