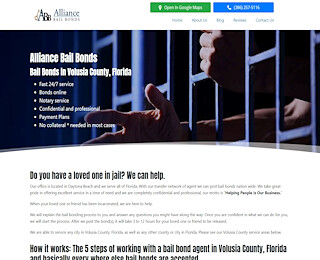 If you ever need to hire a bail bondsman in Florida" href="https://volusiabailbondsman.com/">bail bondsman in Florida, Alliance Bail Bonds is always close-at-hand. Our helpline is open 24-hours a day, so you can always speak with a bondsman if you have questions or need help posting bail. Refer to our website's free resources to learn more about the bail process; our short, informative video will help you better comprehend the steps to take when a loved one calls for help getting out of jail. Don't hesitate to call us, day or night- our office never closes.
Cheap Bail
Pay our bail bondsman in Florida just 10-15% of your total bail and we'll post bail for your loved one when you provide collateral. Contact us by phone to discuss a suitable collateral for the bail amount imposed- we'll work with you to help in any way we can. Most of our clients mistakenly think they have to come up with the entire amount of bail, but that's not the case. We're here to help make it easy and affordable to facilitate the release of your friend or family member from jail.
Why Do I Need a Bail Bondsman in Florida?
Consider two important reasons to hire a bondsman:
1. Whether it's your first time posting bail or you've gone through the process in the past, it's no secret that complications can arise, which can result in long delays. Alliance Bail Bonds is here for you 24-hours a day if you have questions, need professional advice, or need someone to help you navigate the steps involved in posting bail. We're not the only Florida bail bonds company, but we believe we're the best choice when you need a friend at any hour of the day or night.
2. We cover 85-90% of the bond imposed by the judge. Without a Florida bail bonds expert, you'll have to deliver the entire amount of bail to the court, which can be pricey, indeed. Your loved one may have to wait days or weeks for you to arrange for the finances, especially if they're arrested in the evening or over the weekend. When you call Alliance, Bail Bonds, we'll cover the lion's share of the bail so you won't have to limit your cash flow situation or go into hock to obtain bail.
Find Out More
Watch our brief animated video online for a step-by-step tutorial on the bail bonding process. You'll also see a 5-step instructional that will give you the confidence necessary to tell your family member or friend that they'll soon be free. We serve the greater Volusia County area, including DeBary, DeLand, Daytona Beach and The Shores, Edgewater, Holly Hill, and all surrounding towns and cities; feel free to call one of our bondsmen with any questions.
Unlike other bail bonds companies, at Alliance Bail Bonds, we don't use complicated terminology that will only serve to further confuse you. We welcome your phone call and your questions if you're comparing rates and services.
Alliance Bail Bonds
3862575116
3668 W International Speedway Blvd
Daytona Beach
FL
32124
View Larger Map
We welcome your comments!
---
Our Team
Justin Buccolo
Owner & Primary Agent
Nikki Buccolo
Owner / Agent
Clarissa Nicholson
Agent