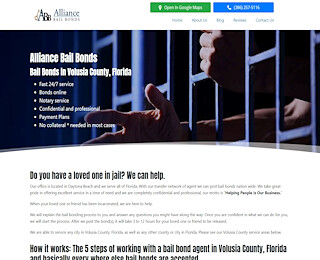 If you need to try to get someone out of jail, this is a process that can be relatively expensive to take on. Many people will not have the money necessary to do so, which makes it common to look for cheap bail options. If you find yourself in a situation where you want to try to get a loved one out of jail that has been arrested, you will need to look for bail bonds in Daytona to have the expense covered.
What Does a Bail Bondsman Do? 
It is completely reasonable to have a few questions if you are unsure of the bail bonds process. How does a bail bonds company work, and when will you need to call one? Are there different options that you can look into when you need to get someone out of jail? 
Once Someone is Arrested 
After the arrest, the judge will work on setting a bail amount that is appropriate for the offense. The amount of the bail will generally depend on a variety of factors, including the criminal record of the defendant, the crimes that had been committed, and the location that the defendant lives. 
The presumption of innocence also factors in, where each person is considered to be innocent until the time that they are proven guilty. This will mean that the state is not able to hold someone in jail until they have been officially convicted of the crime. In order to get out to take care of business until the court date, you may need to work with a Daytona bail company to come up with the money necessary to post bail. 
Where Does a Bail Bondsman Come In? 
You can go to someone for bail bonds in Daytona, and they will essentially front the money to get your friend or loved one out of jail. The bail bond works like a surety bond, meaning the bondsman is standing up to vouch for the defendant that they will make it to their court date when it comes. In order to retain their bond services, you will have to pay a fee which is a percentage of the bail amount, and the fee is also non-refundable. 
Should the defendant fail to arrive in court for their set date, the bondsman will look for compensation from the defendant in the amount of the full bond. In some cases, a bounty hunter might be sent out to look for the defendant to bring them to jail again so that the bond can be recovered. 
Daytona bail bonds will help you to get your loved one out of jail so that you can start on picking up the pieces after the arrest. At Alliance Bail Bonds, we can help you with bail bonds in Daytona 24/7 with professional and confidential services. If you are interested in learning more about how we can help people in and around the Daytona area, simply contact us online for bail bonds in Volusia County by visiting https://volusiabailbondsman.com/contact-us/ or give us a call whenever you need us at (386) 257-5116. 
Bail Bonds Daytona
Alliance Bail Bonds
3862575116
3668 W International Speedway Blvd
Daytona Beach
FL
32124
View Larger Map
We welcome your comments!
---
Our Team
Justin Buccolo
Owner & Primary Agent
Nikki Buccolo
Owner / Agent
Clarissa Nicholson
Agent