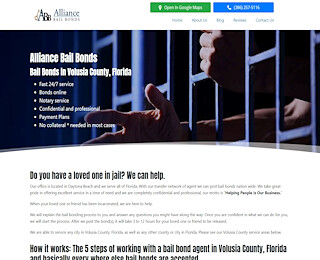 5 Things You Need to Know Before Calling a Bail Bonds Company
When a loved one ends up in jail, you want to help them get out and back home any way that you can. Calling a bail bonds company is the ideal way to get your friend or family member the help that they need fast. Therefore, it's essential to call and find out about bail bonds as soon as they are booked for a crime. But if you have never worked with a bail bondsman before, there are a few things you should know about the process before you get started.
What You Should Know Before You Contact a Bail Bondman
No one wants to have to contact a bail bonds company, but if you have a loved one in need of a bail bond, here are a few things that you should know before you contact one.
You Need to Know This Information About the Accused
When you contact a bail bond agent, you will need to know the full name of the defendant, the location of the jail, the amount of their bail, and their booking number.
Bail Bonds are Loans
When you take out a bail bond, a licensed bondsman puts up the money to cover the bail amount, and you agree to pay a fee. This is the loan the agent will get back if the accused shows up for all their scheduled court appearances. If they skip bail, the bail is then revoked, and the agent loses the money. To protect the agent, you must sign a contract stating that if your loved one skips bail, you will pay the full amount of the bail loan.
Bail Money is Not Returned Until After Legal Proceedings Have Run Their Course
If you pay the full bail money amount to avoid a fee with a bondsman, keep in mind that it could take months for the legal proceedings to end. That means it could take a very long time for the money to be returned to you.
You Are Responsible for the Accused
This is one thing many people are not aware of when they contact a bail bond company. When you bail a person out of jail, you become their indemnitor. That means you accept responsibility for their actions while they are out on bail. If they end up arrested again while on bail, you will be responsible for paying the entire amount of their bond. If you put your home up for collateral for the bail, you could have a lien placed on your property.
Bond Fees are State Regulated
Not just anyone can be a bail bondsman. You have to be licensed by the state and must also adhere to all state regulations. That includes the rules on deciding how much can be charged for bail bond services. All fees are regulated by the state; therefore, if you are trying to shop around to find the best deal, you may be out of luck since that amount is not left up to the bondsman.
Contact us online for bail bonds in Volusia County https://volusiabailbondsman.com/contact-us/ or call us: 386-257-5116
Alliance Bail Bonds
3862575116
3668 W International Speedway Blvd
Daytona Beach
FL
32124
View Larger Map
We welcome your comments!
---
Our Team
Justin Buccolo
Owner & Primary Agent
Nikki Buccolo
Owner / Agent
Clarissa Nicholson
Agent